(1) Key partners
Content/IP owners (studios / distributors): shows and movies that Netflix acquires or licenses from 3rd parties
Internet Service Providers (ISPs): are essential to the delivery of the content in "real-time" to the end customer (and simultaneously to millions worldwide in case of new launches) via Netflix Open Connect standard. But there are tectonic shifts happening (in the US market) that may pose a threat to Netflix (note, the described Comcast and 21st Century Fox merger didn't happen, rather Disney who are not an ISP bought major Fox assets. The described threats, however, are still simmering)
Amazon Web Services (AWS): Almost all of Netflix IT is hosted on AWS (from a functionality perspective but not from a content perspective). They also use Amazon's Content Delivery Networks (CDNs)
Filmmaker "guilds" and individuals: Directors, actors, writers and their guilds/unions are some of the most powerful players in the (US) film industry. This also pertains to powerful individuals, remember Steven Spielberg's opinion to see streaming content as eligible for Oscars
Cinemas, Theatres: E.g. the ban on Netflix films at the Cannes film festival was a consequence of French cinema owner's protest against Netflix practice not to show their content on theatre screens (but Netflix has recently made an interesting move in acquiring one of the title winners of Cannes)
Prizes and film festivals: Strong promoters and influences in the industry can help get the word out, e.g. Film Academy (Oscars), Cannes Film Festival, etc. Netflix titles ran at the Academy Awards and won some prices anyway
Influencers: Magazines, TV shows and others covering the film industry can give free promotion (or criticism)
IP holders: such as Marvel and others who can license their IP to Netflix for their own content creation. Netflix is entering into this space themselves with the acquisition of Millarworld
Regulators: Policies of the Federal Communications Commission (FCC), esp on the topic of net neutrality can have a crucial influence on Netflix (and the entire industries) trajectory, including swaying M&A (dis)approvals / anti-trust dealings of the FTC (here is one opinion piece – note the emphasis on opinion)
Investors: As you have seen in my our article on Netflix's free cash flow, a lot of the content is funded by external money, in particular bond issuance to investors. Despite its huge user base Netflix still needs the faith (and funds) of investors
---
(2) Key Activities
Technology & development: with all recent focus on content (rightly so) one should not forget that at its heart Netflix was and is a technology company. Their Open Connect standard that defines the interfaces and protocols, its pre-positioning of content locally outside of peak traffic, etc is crucial and made the Netflix experience along with myriads of other technological innovations that they have come up with
Content licensing and acquisition: Licensing and acquisition of content have been the main ways to add content in the first years after Netflix started streaming
Content creation: Then from 2013 onwards, Netflix started creating their own content. It requires a whole set of new activities to be added to the business. Content licensing, acquisition and creation consume the largest amount of cash in the business (equally content amortisation is the largest cost element on the income statement)
Marketing: advertising via paid channels, esp promotion of their new show/movies
Influencing: via various channels, such as social media, TV, film festivals, magazines, etc
Analytics: Most technological improvements are being analytically tested for their impact. Analytics permeates the whole company and is the key to customer segmentation. Customer preferences are being divided into 2,000 taste clusters rather than the traditional macro segments based on their viewing behaviours
---
(3) Key Resources/Assets
The Netflix brand: while Netflix primarily promotes their new shows, they still build a brand through this type of promotion. They rank within the global top 100 brands (here 66)
The app / website: the key resource to deliver the experience and content
Content library – licensed content: licensed content still plays a big role, esp those evergreen series that are already well-known. A number of other streaming content providers, however, have announced they will stop their licensing to Netflix. By some estimates, this may affect 20% of Netflix's total content library this is one of the reasons why Netflix is pouring so much money into acquisition and creation of content
Content library – Netflix-owned content: (created or acquired) can have a more extended life cycle in that they can re-run after being fully amortised (i.e. generate revenues at no costs – any firm's dream). They can also be licensed out to other content distributors and generate revenues that way
Algorithms: constant analysis of data based on algorithms and improvement of the business, app, features, etc
Recommendations: falls under algorithms but is such an integral part of Netflix's success that I call it out separately
Data: Captured data, such as behavioural data, preferences used e.g. for micro-segmentation into 2,000 taste communities and used for future investment decisions into content among other
Technology staff: technology is what made Netflix a streaming provider (they started as a DVD-mailing company) and you can see they are valuing their tech staff by their stock compensation schemes that go into this
Actors, writers, filmmakers: Netflix often uses indie and newcomers across these activities and gives them more creative freedom. With many other streaming providers ramping up their content creation it will be interesting to observe the supply/demand shift in this area
Prices: winning revered film prices is one of the best ways to promote their movies and platform, esp because this is exclusive content that people can only watch when they have access
Studios: Netflix has started acquiring their own studios and hiring staff in support of content creation
---
(4) Value proposition
Content library: a huge content library
No ads: no ad interruption just when it gets interesting
On-demand consumption: Unlike TV, one does not have to wait for a week for the next episode. Users can watch anytime
Ability to binge watch: They can also binge watch. All episodes of one season of a series become available at the same time. This is a great stimulus for customer advocacy and word-of-mouth
Simple pricing: Using a flat fee (3 plans to choose from) with unlimited access, no tiers, no premium content at additional charges, no pay-on-demand, etc
Convenience and mobility: ability to watch on any device
High-quality connection: the Netflix ISP speed index has become a benchmark for measuring connection speed. Netflix uses pre-positioning of content during non-peak hours, CDNs and other ways to get their content to geographically close to their consumers
Freemium: Free month to trial – in this period everything can be accessed (no premium content, features, etc that are excluded)
Personalisation: through a recommendation system that takes into account what each individual has watched and liked before (rather than a static "if you liked this, you may like that")
Localisation: Increasing amount of localisation through translation (subtitles) not taking into account the fact it needs to ensure the meaning is translated (not just the words). Creation of international content (not just pumping out US shows)
---
(5) Customer relationships
We are looking at this from the perspective of underlying needs that Netflix satisfies and the way that they do so
Self-service through App: basically all interactions are managed through the app and website, including help system
User support: via live chat, call or call through the app
Social media: Facebook and other for trailers and interactions
Ability to watch anything on demand and all episodes available at once gives a sense of self-control and trust
The recommendation system: is a useful companion giving tips what to watch next saving time and frustration
The whole theme, voice and style: entertaining, relaxed, light-touch, friendly
---
(6) Channels
Firstly, Netflix is the channel itself for content distribution.
Desktop, tablet, mobile OS (any digital device with screen & internet)
App stores: for the Netflix app
Help and support channels via their app, web pages, phone
Other:

Social media for customer relations / promotion of upcoming shows/movies
Media outlets to spread the word (magazines
Film festivals for promotion
---
(7) Customer segments
Micro segmentation into 2,000 taste clusters determined by viewing history
Various micro segments as part of A/B testing of new features / platform improvements
User segmentation based on usage parameters:

Technology used, e.g. screen size
Viewing behaviours, e.g. home, on-the-go, weekend/weekday patterns, binge watcher, etc
First show/movie watched after subscribing
Browsing behaviours
etc

Macro segments used for ad targeting (non-users), e.g.:

Geographical promotions
Geo-demographic
Age
other
---
(8) Cost structure
Technology and development
Marketing
General & admin
Costs of revenue:

Content amortisation (biggest cost in the business)
Payment processing fees
Customer service
Streaming delivery costs (e.g. open connect costs, payroll)
Operations costs (incl cloud computing)
---
(9) Revenue streams
More than 99% of revenues come from subscription fees at this stage, all other revenues are insignificant. There are opportunities for other types of future revenues (incl tiers, premium content, licensing out, etc).
Subscription fees:

International streaming
US streaming
US DVD
3 different plans

In future:

Licensing revenues for Netflix-owned content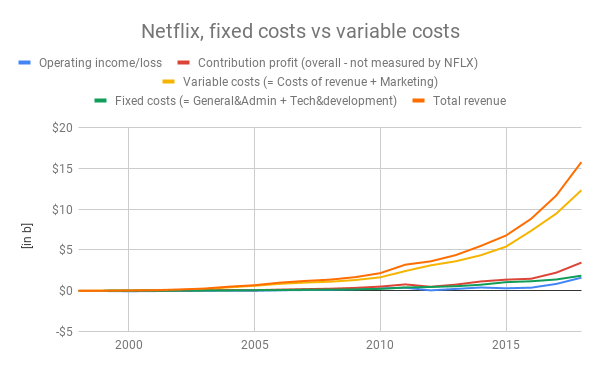 ---
Netflix Business Model Canvas
Source: innovationtatics.com